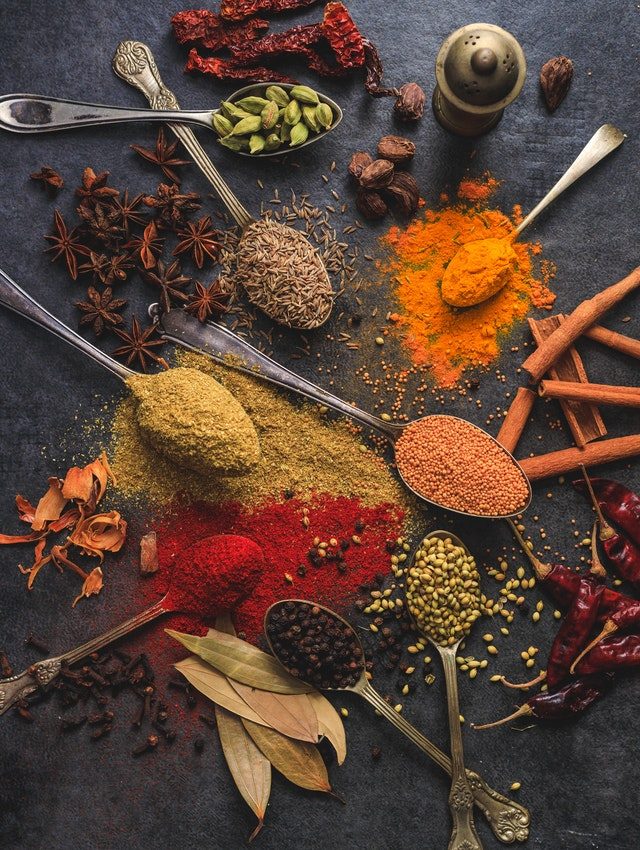 Indian dishes are fully loaded with Indian spices. Each dish is a combination of different flavorsome spices and tastes unique. In India, Indian food and spices hold a vital place. Turmeric, Cayenne pepper (red chili powder), Coriander, Cumin, Fenugreek, Mustard, Cardamom, and Funnel seeds, etc. are the gems of Indian foods. And the list goes on. These spices not only add aroma and flavor but also provide some spice health benefits.
Spices are filled with antiseptic and antibiotic properties. Turmeric controls cholesterols and blood pressure. This wonderful spice is the reason behind the alluring golden yellowish color of curries and stews. Almost every Indian recipe comprise of turmeric. It is also a natural remedy for cuts and wounds.
Cardamom helps in proper digestion. You can chew it for refresh and clear breath.
Red chili powder is a natural herb and detox agent. It has great immune-boosting properties and helps in natural weight loss.
Curry leaf or Kadhi Patta also reduces body weight by burning the body fats.
Coriander or Dhaniya is rich in immune-boosting antioxidants. Coriander benefits heart and brain health, and also promote digestion.
Indian spices are endless. Every spice has its unique health beneficial properties. You must keep aside your bland food and try finger-licking Indian dishes.
Feature Image Credit: Photo by Shantanu Pal from Pexels. (free for commercial use)