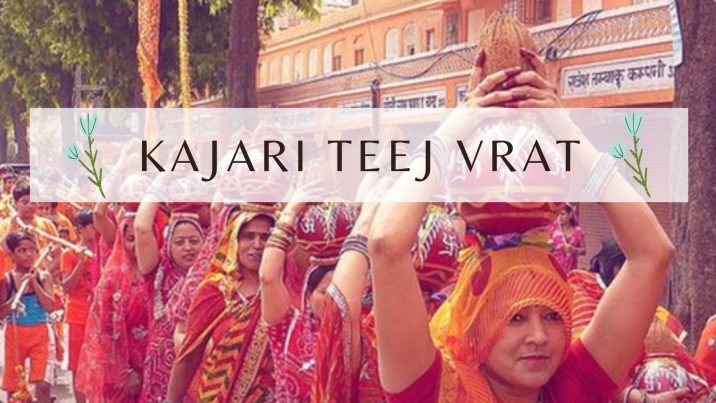 Kajari Teej is one of the three Teej festivals– Hartalika Teej, Kajari Teej, and Haryali Teej observed by women. Kajari Teej falls on Shravan month (July), the third day of the Krishna Paksha (dark fortnight) during the lunar month of Bhadrapada. 
In different Indian states, the Kajari Teej festival is known as Bodhi Teej and Satudi Teej and is exceptionally significant for Hindu married women. This auspicious Hindu practice usually happens three days after Raksha Bandhan. Indian women celebrate Kajari Teej and observe fasting on Kajari Teej to get bestowed with happiness and marital bliss. 
Kajari Teej Rituals:
Not only married but also unmarried girls celebrate Kajari Teej followed by Kajari Teej rituals like- feeding cows, easting meals made of wheat, barley, gram, and rice mixture, plus breaking the fast after seeing the Moon. All these traditions to get blessed with the perfect husband and longevity of husband. 
Decoration: 
On this day, women decorate the entire house with flowers and swings, rejoice, and dance on folklores.
The whole day, women observe Kajari Teej Vrat (fasting) without water and foods, called "Nirjala Upavas." Yet, pregnant ladies are allowed to eat fruits during fast. 
Feature Image Credit: WeRIndia.