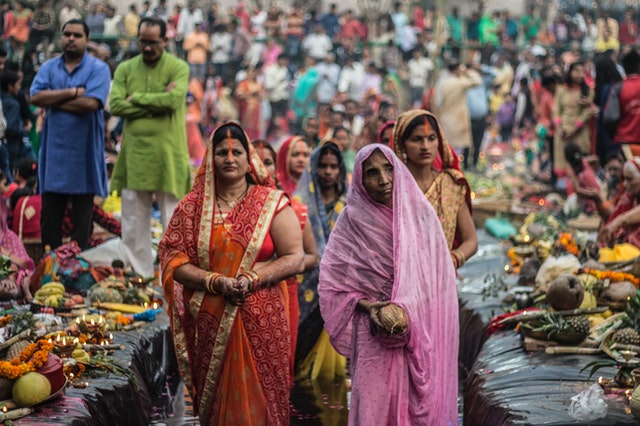 In the list of Hindu festivals and celebrations, Chhath puja is a very unique festival celebrated in the states of Bihar, Jharkhand, and Uttar Pradesh. Started from the Vedic period, this is the only festival dedicated to Surya Devta (Lord Surya) and Chhati Maiya (Goddess Shasthi). These four days celebration ensues in the Hindu month, Karthika.
Lord Surya is the god of light, force, and energy. Devotees worship Lord Surya to ensure everyone's' well-being, prosperity. They observe fasting and perform four days of long rituals. While performing prayer, devotees take dips into the holy water of Ganges.
Scientifically, Chhath puja is immensely beneficial to human health. It helps to remove toxicity from the body since people fast during this festival. The Chhath puja rituals eliminate the harmful bacteria and viruses from the human body and thus prepare us for the coming winter.
Similarly, diving into the holy water of Ganges under the temperament of the Sun increases the solar bio-electricity. It works on the improvement of human body functionality.
Eventually, while performing prayer in the exposed sunlight, the devotee's body gains solar energy directly from sun rays. Thereafter, devotees break their fast by offering prayer and at the end distribute Chhath puja Prasad (prayer gift) known as Chhath Puja Thekua to everyone.
The significance of the Chhath puja festival and stories related to the festival is around.
The Chhath puja origin was in the era of Ramayana. After fourteen years of exile when Lord Ram came back to Ayodhya with Maa Sita and brother Laxman, they observed a fast of thirty-six hours in honor of Lord Surya. During breaking the fast, he offered a prayer that subsequently known as Chhath puja.
Also, the son of Lord Surya and Kunti, the prominent character of Mahabharat- Karna, was very fond of Lord Surya. He regularly performed sun salutation, standing in the water. Eventually, his wife Draupadi was also a devotee of the Sun god. Her immense Sun devotion made them win back their kingdom.
You must celebrate the Hindu festival Chhath puja and provide your body with tremendous benefits.
Feature Image Credit: Photo by Yogendra Singh from Pexels. (free for commercial use)