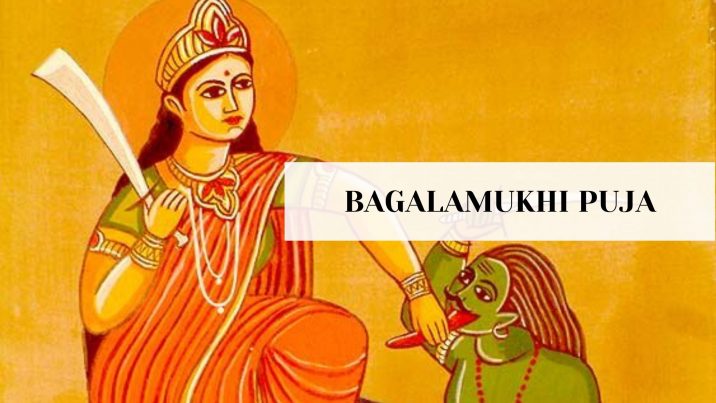 In Hinduism, Bagalamukhi or Baglamukhi is the 8th Goddess of the Dasa Mahavidya (10 aspects of Adi Parashakti). To be specific, "Bagala" means to rein in/bridle, and "Mukhi" means the mouth, precisely the deity signifies having the power to paralyze the enemy. Bagalamukhi is known as Pitambari Maa in North India due to her association with yellow/golden color. 
It is said that Devi Bagalamukhi smashes the delusion or misconception of her devotees with her cudgel. The name Bagala derived from the word "Valga," symbolizing robust female primeval force.
Benefits of Baglamukhi Puja:
If performed the Puja accurately, the devotees will get safeguards against visible or non-visible foes and evil-eyes.
Bagalamukhi Puja (devotion) helps eliminate the adverse effects of black magic from the innocent's life. It grants protection against the same for the future.
The Goddess will bestow you with name, fame, wealth, and other possessions. She will give you the life you have always dreamt of.
If you are suffering from tremendous financial debts or have incurred massive financial losses, this puja will cure your overall problems.
Moreover, if you praise her, she will resolve your career issue, help you grow or start your business successfully. 
It is advisable to pray Devi Bagalamukhi by reciting Maa Baglamukhi Mantra and resist eating non-veg food and drinking alcohol during the Bagalamukhi puja rituals. Thus, the puja will be fruitful and effective. 
Feature Image Credit: WeRIndia.