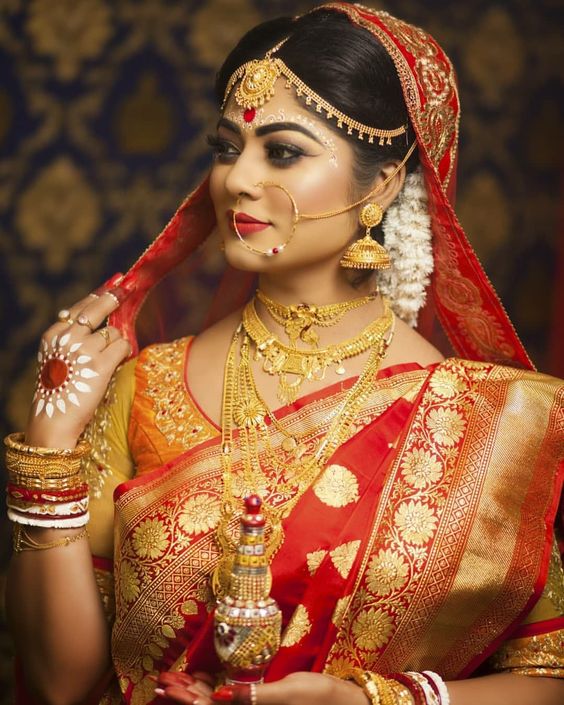 Wearing one white bangle (Sankha) and one red bangle (Pola) into both of the hands is a tradition of Bengali culture. Bengali married women have to wear Sankha-Pola as a symbol of their marriage life. The white and red bangle exaggerate the beauty of the bride and add natural divine appeal to her attire.
In the Bengali wedding, the Sankha-Pola significance is enormous.
Not only in Eastern India, but this custom is also shown in northern India in the form of Chura. Chura or Kaljeera is a bunch of white and red bangles and kinda familiar to Bengal's Sankha-Pola. Be it Sankha-Pola or Chura Hindu married women must wear those, on and after the wedding day.
Although, in Bengali culture, there is an auspicious Sankha-Pola ceremony take place before the wedding day. On that ceremony, both of the bangles soak into the turmeric water before wearing them. Seven marriage ladies collaboratively give those bangles to the bride. This orthodox ritual considered to be the blessings of seven divines.
Sankha-Pola, along with Sindoor (vermillion), is the symbol of Bengali Hindu culture. The white conch shell bangle is the symbol of care that the newlywed bride takes towards her new relationship. And the coral red bangle is the symbol of love and warmth that needs in a relationship.
Both need to wear accompanying with an iron bangle (Nowa). The iron bangle provides harmony to the new relation and balances positive and negative energy.
These traditional accessories should be worn after marriage as they represent the husband's existence. Also, the white bangle signifies purity, and the coral bangle signifies fertility and happiness. Sankha Pola in gold design also available in the market.
The Sankha Pola is not supposed to break within one year of marriage. If breaks, it will bring bad luck to you.
You must wear these elegant, radiant bangles for a better marriage life.
Feature Image Source: Pinterest.