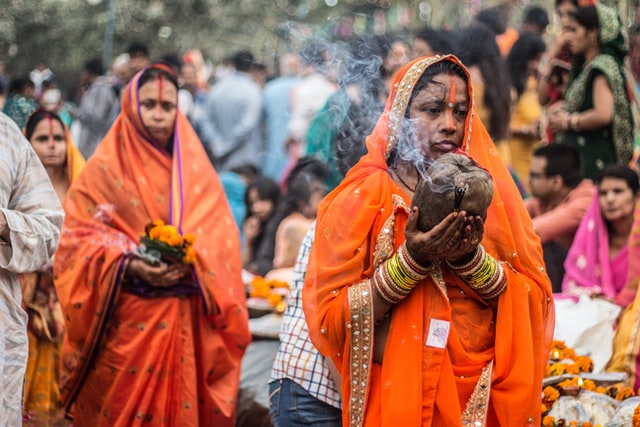 Chhath is an ancient Hindu Vedic celebration that is entirely dedicated to Sun God "Surya Dev" and Goddess Chhathi. Chhath Puja is performed to gratify and thank Lord Surya for sustaining life on earth.
Chhath Puja festival ritual involves taking a holy dip in the Ganga River or sacred pond and paying homage to the setting Sun and Water. On this day, Hindu women observe fasting and offer Prasad to please the Lord.
However, people worship the Sun God during this festival since he promotes well-being, progress, and prosperity. Besides, for ages, Sun is considered the provider of life force and energy and cosmic god. Therefore, it is assumed that it was all started by Surya Putra (Son) and the greatest warrior – Karna. Most importantly, along with God Surya, devotees also praise Goddess Chhathi- the consort of Lord Surya. The occasion of praying to her is known as Chhath Puja.
In Vedas, she is "Usha." It means the first ray of light from the rising Sun. On Chhath Puja Day, devotees sing to the goddess and pray to her to help them overcome troubles and provide them "Moksha" or Liberation.
Hence, this celebration is broadly known as "Aastha Ka Maha Parv."
Feature Image Credit: Photo by Yogendra Singh on Unsplash. (free for commercial use)