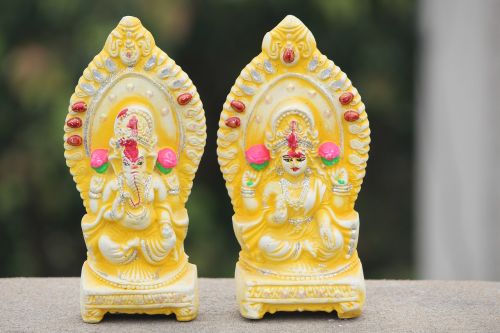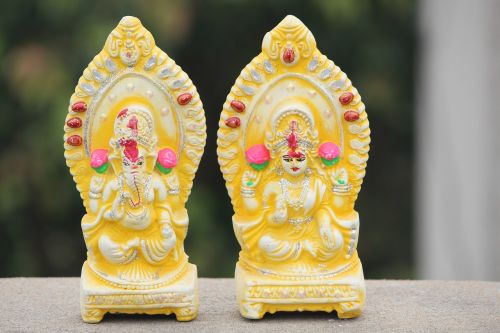 As Ganesha is the obstacle remover, praying Goddess Laxmi and Lord Ganesha together will eliminate all your obstructions and bring up fortune plus wealth.
Hindus worship Goddess Laxmi along with Lord Ganesha but not just her. Welcoming and worshipping Laxmi Devi (goddess) with Lord Ganesha is mandatory for Diwali puja (religious celebrations) or any other Laxmi puja. 
But why so? Are they related? Continue reading to find out the reason.
Laxmi is the goddess of wealth and money, fortune, and prosperity. Similarly, Lord Ganesha is the god of intellect, wisdom, and success, who removes obstacles. Logically, without knowledge and sense, you cannot utilize the wealth properly. So, praying both together makes sense.
Besides, the story states, once Lord Vishnu told Goddess Laxmi that she has all the qualities but not the joy of motherhood as she had no kids. She was disheartened by the statement of Lord Vishnu. So, she went to Goddess Parvati for help. She asked Parvati to give her one of her two children, either Kartik or Ganesha— so that she can experience and enjoy the joys of motherhood.
Goddess Parvati gave Lord Ganesha to Goddess Laxmi as her adopted child. Laxmi was so glad by this that she blessed Ganesha with all her accomplishments, leisure, and prosperity also said Lord Ganesha puja is a must whenever someone will worship goddess Laxmi. If not, then they will be expelled from her Shree (blessings).  
Feature Image Credit: Needpix. (free for commercial use)
https://www.needpix.com/photo/1015540/