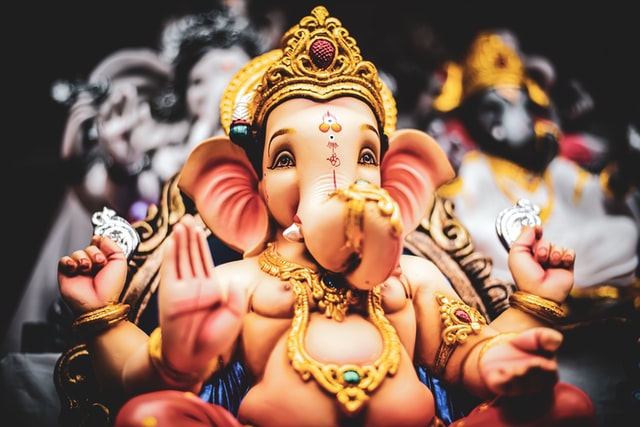 Lord Ganesha, also known as "Vighnaharta", is the most important deity to be worshiped by Hindus. He has the majestic powers to demolish all our obstacles in the way of our good deeds. Lord Ganesha converts all the unwanted negative thoughts to positive thoughts in our minds. Thus, devotees call him Vighnaharta. In Hinduism, the devotion of Lord Ganesha before any ritual is immensely auspicious.
Worshipping Lord Ganesha before any ceremony brings good luck, positive vibes and makes all the action successful. Lord Ganesha was blessed by his father, Lord Shiva, to be worship at the beginning of any ritual. As per Hindu mythology, he was honored to become the first among gods to be glorified before any commencement.
Lord Ganesha or Ganapati is easily recognizable by his elephant head. Therefore, he is called "Vinayaka", symbolizing the "supreme head". The god of wisdom is also known as "Lambodara" because of his big belly.
The importance of Lord Ganesha in Hinduism is vast. If you visit any temple or any traditional Hindu ceremony, you will notice that Lord Ganesha is being prayed by people before starting the celebration. People chant the Ganesha mantras and songs dedicating to Lord Ganesha.
He is known as the "lord of beginnings". Devotees pray him to defeat all obstacles, so they can achieve their goals. You must pray to Lord Ganesha before commencing any good work, as it will bring you good luck and success.
Feature Image Credit: Photo by Mohnish Landge on Unsplash. (free for commercial use)