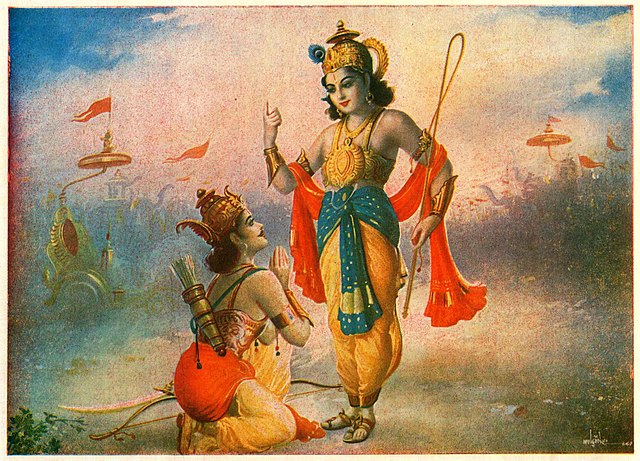 Bhagavat Gita is one of the important and life-changing Hindu scripture. It was written by the great author Ved Vyasa in the time of Mahabharat. This historical scripture is the remark of truthfulness and honesty. Thus, Bhagavad Gita is used in the Indian constitution and courts.
Bhagavad Gita is the conversation between Arjun and Lord Krishna (the first motivational speaker in humankind) when Arjun was about to involve in Dharma Yudhha (righteous war).
The war was between Pandavas and Kauravas. Arjun was afraid to fight the war as it was against his affinity. He sought some questions to Krishna about ethical dilemmas, spirituality, and philosophy.
The dialogues of Arjun and Krishna are written in the 700 Sanskrit Shlokas (verses) in the Bhagavad Gita. Here are some inspirational dialogues from Bhagavad Gita that will your perception of life.
Feature Image Credit: https://commons.wikimedia.org/wiki/File:Krishna_tells_Gita_to_Arjuna.jpg
Mahavir Prasad Mishra / CC0