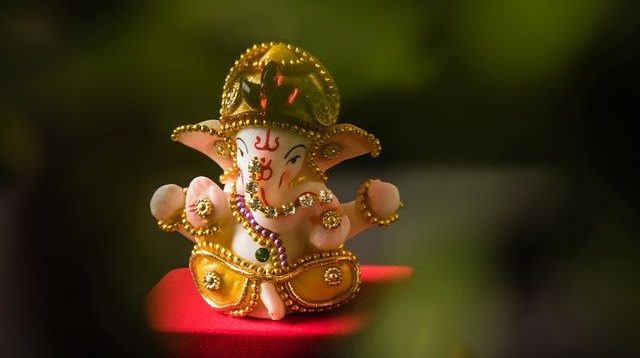 Vighnaharta Lord Ganesha is the beloved lord among all. Every year on Ganesh Chaturthi devotees welcome him in the form of Ganesha idol. All Hindus worship him with great enthusiasm and devotion. Our favorite Ganesha has some interesting facts that you would love to know about.
Lord Ganesha was made out of

Goddess Parvati's body dirt

. She was been suggested by one of her friends that Lord Shiva has Nandi and other followers to obey his orders. But Parvati doesn't have anyone. Thus she created Ganesha, who follows his mother's order thoroughly.
Ganesha is considered a supreme god as Bramha, Vishnu, Shiva, and Durga. They all collectively glorified as 'Panchayatana Pooja'.
Lord Ganesha rides over the little mouse, which indicates as 'Ego'. This interprets that we should have control over our ego and stay invariably grounded.
'Vinayaka' is the original author of "Mahabharat".
He has 108 names, including 'Vighnaharta', 'Gajanana', 'Pramodaya', 'Ganga Sutaya', 'Abhishtavaradaya', 'Unmattaveshaya', and more.
The name Ganesha is a Sanskrit aggregate word. 'Gana' means "a group" or "categorical system", and 'Isha' signifies "Lord" or "Master".
Lord Ganesha must be prayed before any auspicious Hindu rituals and also before worshipping of any other deities.
On the holy festival of Ganesh Chaturthi, some devotees worship Goddess Gauri along with Ganesha, on the fourth day of Ganesh Chaturthi.
During his devotion, devotees make a unique and special sweet delicacy "Modak", which is Ganesha's most favorite.
Now you know all the unknown facts of Lord Ganesha. You must worship Vinayaka for success and knowledge.
Feature Image Credit: Free stock photos from www.rupixen.com from Pixabay. (free for commercial use)