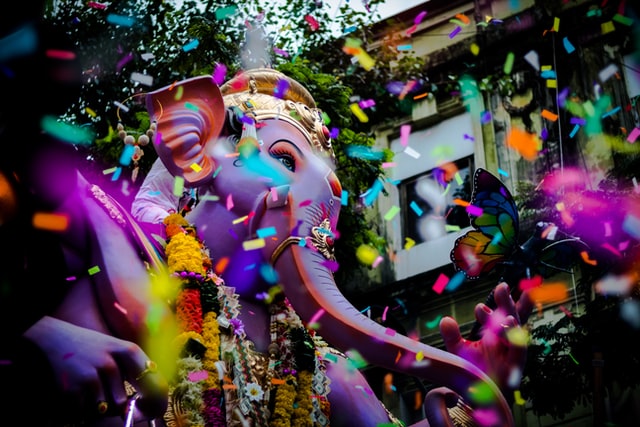 Ganesh Chaturthi is the biggest Indian festival celebrated widely in India. This joyous celebration took place in India in terms of Lord Ganesha's birthday. Hindus are celebrating this grand festival for centuries. In Madhya Pradesh, Karnataka, Gujarat, Hyderabad, Goa, and especially In Maharastra, Ganesh Chaturthi is glorified grandly. This sumptuous festival is celebrated in August and continues for 10 days.
'Lord Ganesha'– the god of wisdom, prosperity, knowledge, and good fortune. He removes all the obstacles we face in our life. So, devotees call him 'Vighnaharta'. Lord Ganesha is the son of Lord Shiva and Parvati.
According to Hindu mythology, Goddess Parvati is the creator of Lord Ganesha and made him with her specks of dirt on her body. Once, she put him as her guard while she went for bathing. When Lord Shiva tried to enter that room, little Ganesha stopped him as per his mother's order. Lord Shiva got angry and cut off Ganesha's head.
As a result, Goddess Parvati got furious and became Kali to destroy the universe. To calm her, Lord Shiva promised her to bring Ganesha back into life. In search of a new head, his followers found a dead elephant in the north, and Shiva established that elephant head to Ganesha's body. Thus, Ganesha got a new life and blessing from Lord Shiva and other Lords. Since this day is being celebrated as Ganesh Chaturthi.
Ganesh Chaturthi is also known as 'Vinayak Chaturthi' or 'Vinayak Chavithi'. On the day a clay Ganesha idol is being placed the homes and pandals and decorated with flowers. In this auspicious day, devotees make Lord Ganesha's favorite sweet "Modak" in praise of him. Devotees perform prayer with Ganesha mantras and Ganesha bhajans.
You should join and perform Ganapati puja for the good luck of you and your family.
Ganapati Bappa Morya!
Feature Image Credit: Photo by riddhesh patil on Unsplash. (free for commercial use)