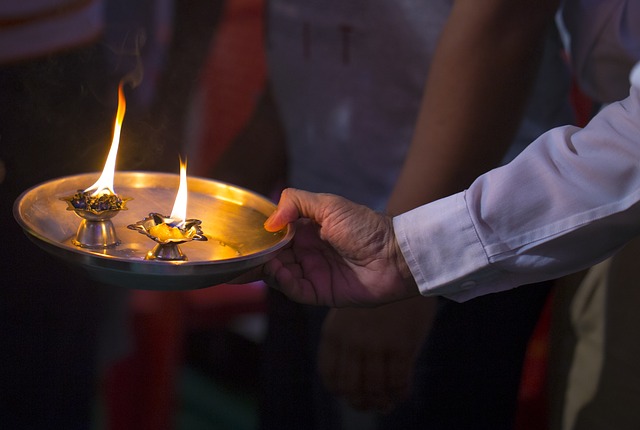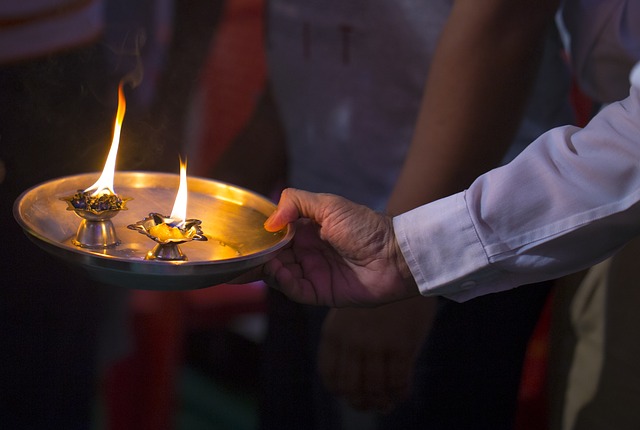 Arati is a Hindu ritual performed by Hindus while worshiping God. It is a practice that priests and devotees perform in temples or at home in front of Idols. Hindus do arati once or five times daily. The purpose of this activity is to offer light or flame to God.
It is a process where an arati plate is circulated around God or a person. The arati is an expression of many things including love, kindness, gratitude, devotions, or desires. While performing arati we face God and focus on the form of god by looking into the eyes of the deity to get immersed.
An arati plate contains a Diya (lamp), some flowers, rice, incense sticks and kumkum, and Ganga Jal (Holy water of Ganges River) – but you can arati with only some of these items. These ingredients represent the five elements of nature. The plate is made of metal like silver, copper, or bronze is used for this ritual.
Arati is performed at the end of the pooja (prayer) or Bhajana (song). A song or prayer is also recited by the devotees while doing arati. The universal arati song is "Om Jai Jagdish Hare". Besides that,  people also chant "Om Jai Shiv Omkara", "Om Jai Lakshmi Mata", "Om Jai Ambe Gauri", "Om Jai Adya Shakti", "Om Jai Saraswati Mata", "Om Jai Gange Mata", "Om Jai Tulsi Mata", and "Om Jai Surya Bhagvaanv" during arati.
Feature Image Credit: Image by Pashminu Mansukhani from Pixabay (free for commercial use)