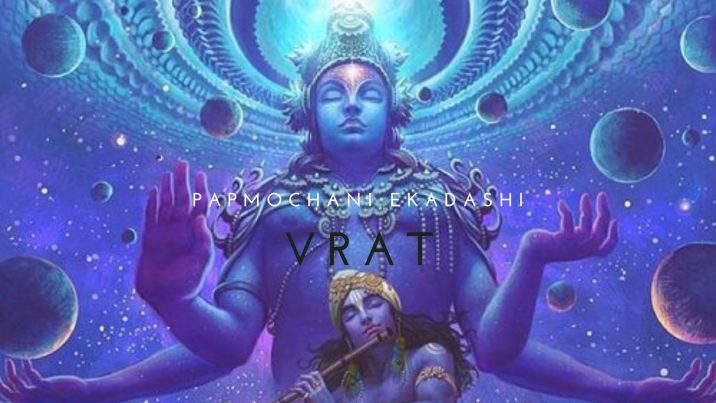 Papmochani Ekadashi is another Hindu Ekadashi festival celebrated in honor of Lord Vishnu. Ekadashi festivals mark a dissimilar significance and consideration in Hinduism. According to Hindu Calendar, Ekadashi comes two times each month during Krishna paksha and Shukla paksha. Similarly, Papmochani Ekadashi falls in the month of Chaitra (March-April) in Krishna paksha (waning moon phase).
Significance of Papmochani Ekadashi:
The word Papmochani stands for the one who eliminates or removes the misdeeds committed intentionally or unintentionally ( Paap= Sins, Mochani= Remover).
As per ancient Hindu text, fasting on Papmochani Ekadashi is highly important for an individual, called Papmochani Ekadashi Vrat. In the holy scriptures, Lord Krishna explains Yudhishthira the influence due to the sacrifices of his horses (Ashvaamedha). And the opportunity of getting to see Lord Vishnu. The belief is that the people who observe Papmochani Ekadashi Vrat adhering to each ritual will acquire liberation and secure a place in Lord Vishnu's abode.
Hindus consider Papmochani Ekadashi to be the most divine Ekadashi for nullifying all the sins or misdeeds.
The benefits of observing Papmochani Ekadashi Vrat:
If you observe this particular fast and stay awake all night, Lord Vishnu will eliminate all your misgivings, misdeeds, and sins.
The Lord will nullify all the guilt feelings inside you and give you clarity of thoughts.
Worshipping Lord Vishnu on Papmochani Ekadashi will enhance your intellectual, emotional, and spiritual strengths.
So, in case you want to receive the benefits of Papmochani Ekadashi along with Lord Vishnu's blessings, you must wake up early in the morning, observe Ekadashi Vrat, and perform Papmochani Ekadashi Puja.
Adherents eventually prepare special delicacies such as Kheer (Rice pudding), Til Laddu (sesame seed sweet balls), and Mewa offerings to appease Lord Vishnu. You can follow the same and get happiness and prosperity in return from the Lord.
Feature Image Credit: WeRIndia.