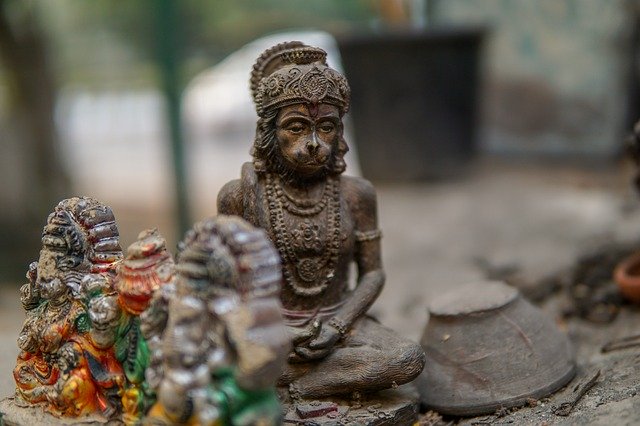 Lord Hanuman is another extremely popular and devoted god in India among Hindus. Hanuman is the symbol and god of strength and power. On the occasion of his birth, Hindus every year celebrates this day as the Hanuman Jayanti festival.
Lord Hanuman is the son of the god of wind Vayu and Anjani. He was born in Hindu month Vaishakh on Saturday, Sukla Dashami (10th lunar day after the full moon, Poorva Bhadrapada Nakshatra).
We are deliberately aware of Lord Hanuman's action, contribution, devotion, and faithfulness towards Lord Rama. Hanuman played an immensely important role while rescuing Mata Sita, which is briefly described in the famous Hindu scripture– "Ramayana".
The name Hanuman means 'disfigured jaw'. Lord Hanuman was free of any physical fatigue or harm because of his steady devotion and commitment. Therefore, devotees worship Hanuman to get freed from harmful things.
On the day of Hanuman Jayanti, people worship the idol or image of Lord Hanuman by chanting various mantras and devotional songs like Hanuman Chalisa. Some even read the Holy Scripture Ramayana on that day. You must worship Lord Hanuman with red flowers and wear red cloths as red is auspicious in the prayer of Hanuman.
Believers pray him seeking victory and protection from evil powers. Celebrate Hanuman Jayanti from all your devotion and conduct all his charismatic and positive qualities within you.
Feature Image Credit: Image by wpoeschl from Pixabay. (free for commercial use)