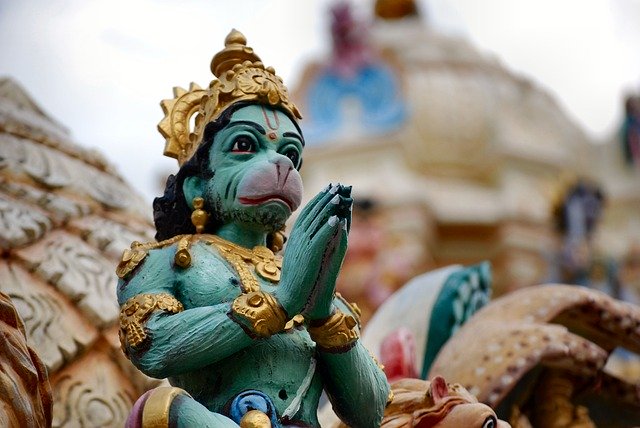 Hanuman Chalisa is a powerful hymn dedicated to Lord Hanuman. Hindus chant this devotional song to eliminate evil power around them. Hanuman Chalisa includes 40 shlokas (verses) in praise of Lord Hanuman, written by Saint Tulsidas in the 16th century.
Hanuman Chalisa benefits one's lifestyle and health. Hanuman Chalisa chanting purifies body and mind, and it spares us from all evil power in our everyday life. Hanuman Chalisa significance is immensely broad. Hindus believe that if you are having trouble sleeping and nightmares, you can place Hanuman Chalisa under your pillow for better sleep. Even if are in any dilemma, chanting the Hanuman Chalisa mantra calls up Lord Hanuman to destroy all negative energies and evil spirit.
As per Hindu mythology, the lord of Saturn (Shani Dev) is frightened of Lord Hanuman. Hanuman Chalisa helps reduce the effects of Sade Sati (the 7 ½ years-long periods of Shani). So, if anyone is suffering from the effect of Saturn according to the horoscope, they may chant Hanuman Chalisa every Saturday for peace and prosperity.
You may have seen many people place the Hanuman idol in their car. It is believed to protect them from accidents and ensure a safe trip. You will also gain knowledge and wisdom and self-enlightenment by singing the Hanuman Chalisa. Try to keep a handy Hanuman Chalisa with you to have a safe and healthy life ahead.
Feature Image Credit: Image by reinhold embacher from Pixabay (free for commercial use)