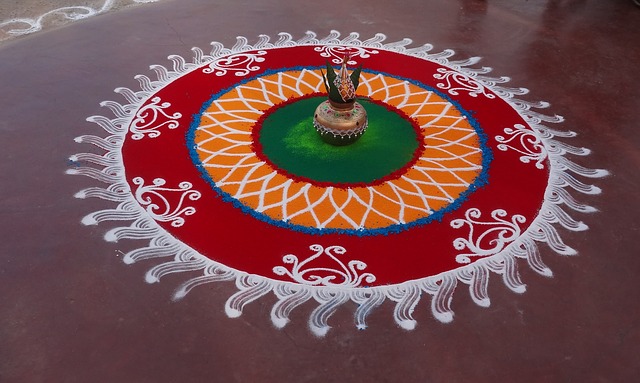 Rangoli is a type of art form which Hindus draw on multiple Hindu festivals like Diwali, Onam, Pongal, etc. Hindus consider drawing rangoli designs on the floor is auspicious on festivals. Despite this, the colorful rangoli itself looks very traditional and vibrant.
To create rangoli art, people use dry rice flour, all-purpose flour, flower petals, colored sand, and Gulal or Holi colors. But in ancient times, natural colorants like turmeric, kumkum, tree barks, etc. were used to paint rangoli. Using natural elements like turmeric and kumkum will calm your mind for a specific time.
Rangoli is not just an art to showcase the traditional art side of India. In celebrations, rangoli significance is immense.
It is said that, by drawing rangoli on auspicious occasions, you'll get good luck.
The other story is, when Lord Ram and Maa Sita came back to Ayodhya from fourteen years of banishment, Ayodhya people painted rangolis along with small clay lamps to welcome them. They named this celebration as Diwali. And from then, the ritual of painting rangoli for Diwali is being followed by Hindus each time.
You know, painting rangoli has a wondrous scientific reason as well? While designing rangoli, it creates a positive pool of energy. The colors of rangoli bring calmness to you. Moreover, whenever you pass through the rangoli, you'll be disconnected from your past and future.
In different Indian states, rangoli has various names. In West Bengal= Alpana, Chattisgarh= Chawkpurana, Tamilnadu= Kolam, and in Rajasthan= Mandana.
Decorate your home with some amazing rangoli as it will bring you good luck, positivity, and generosity.
Feature Image Credit: Image by Prasad Ganapule from Pixabay. (free for commercial use)