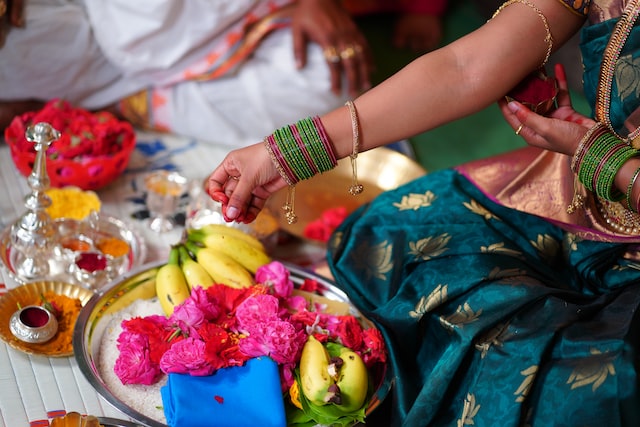 Bhagwati Seva Puja is ceremonious worship dedicated to goddess Raj Rajeshwari, an avatar of Goddess Durga. This goddess is believed to be a mighty and merciful mother goddess who is the presiding deity of Shri Chakra.
Benefits of performing Bhagwati Seva Puja
She is the divine feminine energy that controls ancient and powerful Geometric design. This female energy destroys evil and enhances spiritual progress by intense purification of the person's aura. Due to that grounds, the adherents perform Bhagavati Seva Puja to cleanse all obstruction, including difficulties, evil influences, and negativity.
Conducting this puja also benefits in reducing business losses, simplifying unnecessary complexity, and achieving financial stability.
Bhagavati Seva Puja is performed to remove all types of black magic effects, malefic effects of the planets, and any health problems.
Rituals of Bhagwati Seva Puja
This puja is conducted using the methodology and intense religious procedures common in Southern parts of India. To perform this puja (worship ritual), goddess Bhagavati is invoked in a big lamp in the center of a hand-drawn Rangoli shaped like a mandala.
The mandala is energized through the recital of the mantra and by doing Matrika Nyasa. Also, the color used in the mandala represents five elements of the cosmic world. It's believed that only specially initiated priests who are pure from the body and mind are capable of conducting this esoteric worship.
Praise goddess Bhagavati and experience a fully transformed life due to the grace of this goddess.
Feature Image Credit: Photo by Jignasa on Unsplash. (free for commercial use)