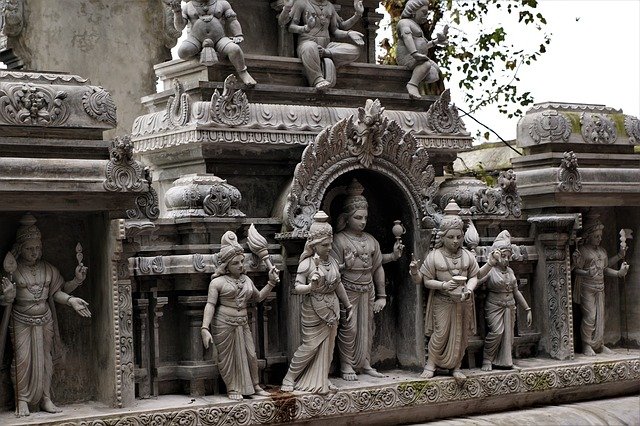 Talking about Hindu Mythology, Hindu Puranas and Vedas also mention about 33 Gods and Goddesses, called – "Trayastrinshata." The Trayastrinshata are ancient Vedic deities who consist of Adityas, Rudras, Vasus, and Ashwins.
Besides, the ancient Hindu Vedic deity Lord Indra is also a guardian deity in Buddhism. He is also a significant deity in Hinduism. Known as Śakra, he is the superior lords of these Vedic deities and the first of the 33-followed by Agni.
Adityas:
Śakra

, also known as Indra, the god of rains & the king of gods.
Mitra, the patron god of oaths and friendship.
Varuna, the patron god of water and the oceans.
Pūsan, patron god of travelers and herdsmen, god of roads.
Dhāt, the god of health and magic; also known as

Dhūti

.
Vivasvat, also known as Savitṛ or

Ravi

.
Bhaga, god of wealth.
Dakṣa.
Vamana.
Aryaman.
Aṃśa.
Vasus:
Sūrya – the god of "Sun"; also named Pratyūsha, ("break of dawn"-but often used to mean simply "light").
Agni- the god of "Fire"; also named Anala or ""
Vāyu- the god of "Wind" or Air, also known as Anila ("wind").
Pṛthivī- the god of "Earth"; too acknowledged as Dharā or ""
Varuna – the god of "Water"; also named

Antarikṣa

– the "Space" or "Atmosphere" god.
Samudra- the god of "Sea"; also called "Sagar,"
Dyauṣ- the god of "Sky"; also described Dyeus and Prabhāsa or the "shining dawn."
Soma- the god of "Moon"; also known as ""
Ashvins:
The Ashwins or Nāsatyas are the twin gods – Nasatya & Dasra.
Rudras:
Rudras are the 11 Vedic gods from Ramayana, are the great sage Kashyapa and his wife, Aditi's beloved sons. Aside from this, in Matsya Purana, the goddess of cows "Surabhi" & Lord Brahma had 11 children. They are known as Rudras. They are Aparajita Mrigavyadha, Nirriti, Shambhu, Dahana, Khara, Kapardi, Pingala, Ahirabradhya, Kapali, and Senani.
Feature Image Credit: Image by photosforyou from Pixabay. (free for commercial use)