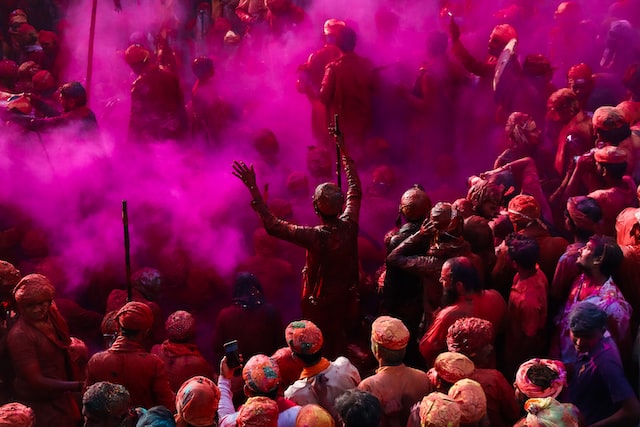 Holi is celebrated extraordinarily, especially in Bran, which is the historical region that covers the area of Mathura and Vrindavan. In several Indian territories, the Holi festival typically starts in the middle of January after the Makar Sankranti celebration and continues beyond the day of Holi itself.
Lath Mar Holi:
There's a peculiar approach to the Holi celebration in Barsana and Nandgaon, where the women hit the men with Lathis (sticks).
Phoolon wali Holi:
In the Banke Bihari Temple at Vrindavan, people celebrate the Holi festival with only flowers on the Ekadashi before Holi.
Laddoo maar Holi:
In some parts of Mathura, people celebrate Holi by smearing colored powder. However, in Barsana, Krishna devotees toss Ladoos (an Indian sweet) on one another.
Play Holi with Lord Krishna:
In the Banke Bihari Temple, the temple authority opens the temple gate for all Krishna devotees. Hence, they play Holi with the priests and Lord Krishna himself.
Huranga Holi:
On the day after Holi, women take advantage of the celebration of Holi, where they beat and even strip the men at Dauji Temple.
Vidhva ki Holi:
In Varanasi and Vrindavan, the Hindu widows play Holi with either flowers or light colors.
You can celebrate or even participate in the biggest color festival in India and experience the shades of this vibrant celebration in different regions.
Feature Image Credit: Photo by Saksham Sinha on Unsplash. (free for commercial use)