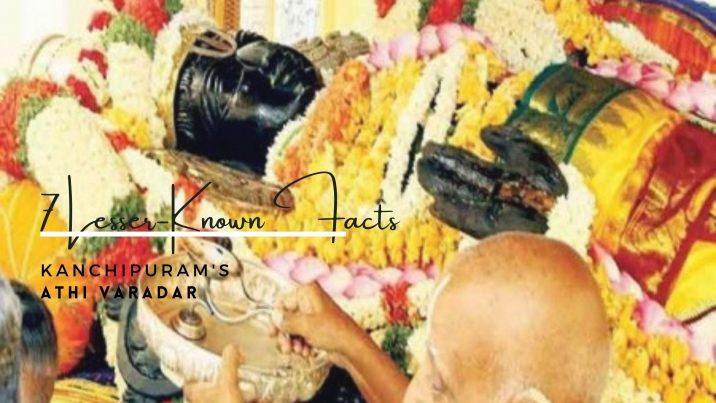 FACT#1
Kanchipuram is one of the sacred cities in India. The meaning of "Kanchipuram" signifies "Ka" = Lord Brahma, "Anch"= Worship, and "Puram"= City.
FACT#2
The significance of the deity is due to Lord Brahma's repentance, after which Lord Varadaraja emerged from the fire. Lord Brahma requested Lord Varadaraja to protect the place thereafter.
FACT#3
The 10 feet long idol of Lord Varadar was carved out of an "Athi" tree, an Indian Fig tree. In the Treta Yuga, Lord Vishwakarma contributes to the name of the lord – Athi Varadar.
FACT#4
The fascinating thing is that the idol gets immersed in the "Kalyani" called "Ananta Sara" for 40 years at a time. This ritual was inaugurated to preserve the statue from the Northern attackers.
FACT#5
The Athi Varadar wasn't found for the next 40 years until the Kalyani was emptied of the water within it. Meanwhile, there was a stone replica built and worshipped. It is the actual deity that sits in the temple daily.
FACT#6
Once discovered, people once decided to re-immerse the idol in the Kalyani and brought it out once every 40 years.
FACT#7
Last time, in 2019, the 2nd of July, people brought out the real idol for "Darshan" (visit) purpose. It was a grand celebration that people kept the statue 48 days out of Kalyani.
Feature Image Credit: WeRIndia.