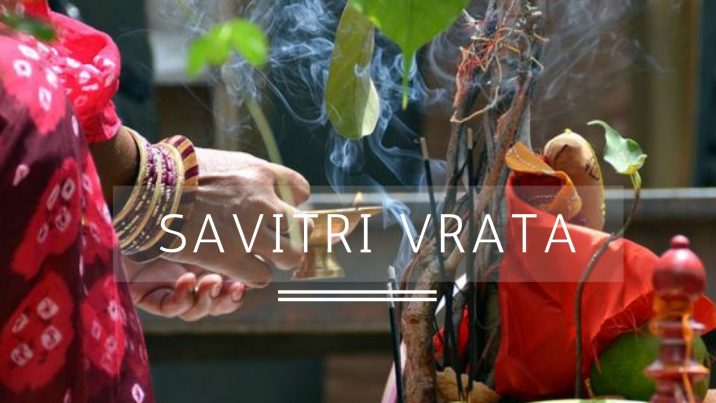 Savitri Vrata (fasting) is one of the vital yet significant Hindu rituals. Married women from Odisha, West-Bengal, and Jharkhand celebrate for their husband's wellbeing. Generally, this is a fasting ritual, which falls on Amavasya (new moon) in the Hindu month of Jyestha. Hence, the celebration is also named Savitri Amavasya.
Savitri Vrata is popular among married women who observe fasting with complete dedication. They worship goddess Savitri for the long life of her husband.
The story behind Savitri Vrata:
The origin of Savitri Vrata is from years back. This festival significantly reflects the ever-green story of Savitri and Saytavan. Savitri was the wife of Satyavan, who was destined to bring the life of her dead husband back with extreme devotion. 
In this video, the story of Savitri and Satyavan and how the fasting ritual aroused is beautifully illustrated. 
Rituals of Savitri Vrata:
The celebration starts with an early morning bath, and then the women wear fresh new clothes (Saree), bangles, and vermilion (Sindoor or kumkum). Bring some fruits, sweets, and flowers as an offering to goddess Savitri and praise her. 
The same festival is also famous in the Indian states of Gujarat, Maharashtra, Goa, and Karnataka as "Vat Purnima," which falls on Purnima (new moon) in the Hindu month Jyestha. 
Hence, you may also celebrate Savitri Vrata for the sake and long life of your husband. 
Feature Image Credit: WeRIndia.